Whether you're a first-time tenant or you've been renting for a while, and you're searching for a new property, it's important to sign a rental agreement and to understand the terms of your contract.
A contract should protect both parties and provide you with all the information you need to understand your responsibilities either as a landlord or a tenant.
If you're thinking of renting out your property, or you're a tenant, and the current owner doesn't already have an agreement drawn up, it's possible to create your own rental contract.
Here's a simple guide to help you design and implement a basic rental agreement.
What is a Rental Agreement?
A rental agreement is a document, which outlines the responsibilities of a tenant and the owner of the property they are leasing.
This document cements the relationship between the tenant and the owner and provides a firm grounding for a successful tenancy. The aim is to make obligations clear to prevent confusion, and ensure that both parties are fully aware of their responsibilities.
The agreement will contain detailed information about the property itself, the term of the contract and the fees payable by the prospective tenant.
Once the agreement has been signed, both parties have a duty to adhere to it. If there are discrepancies, the contract can be used to determine who is in the right. If something breaks, for example, the agreement should stipulate who is responsible for the repairs.
A rental agreement may also be known as a residential lease agreement or a rental contract.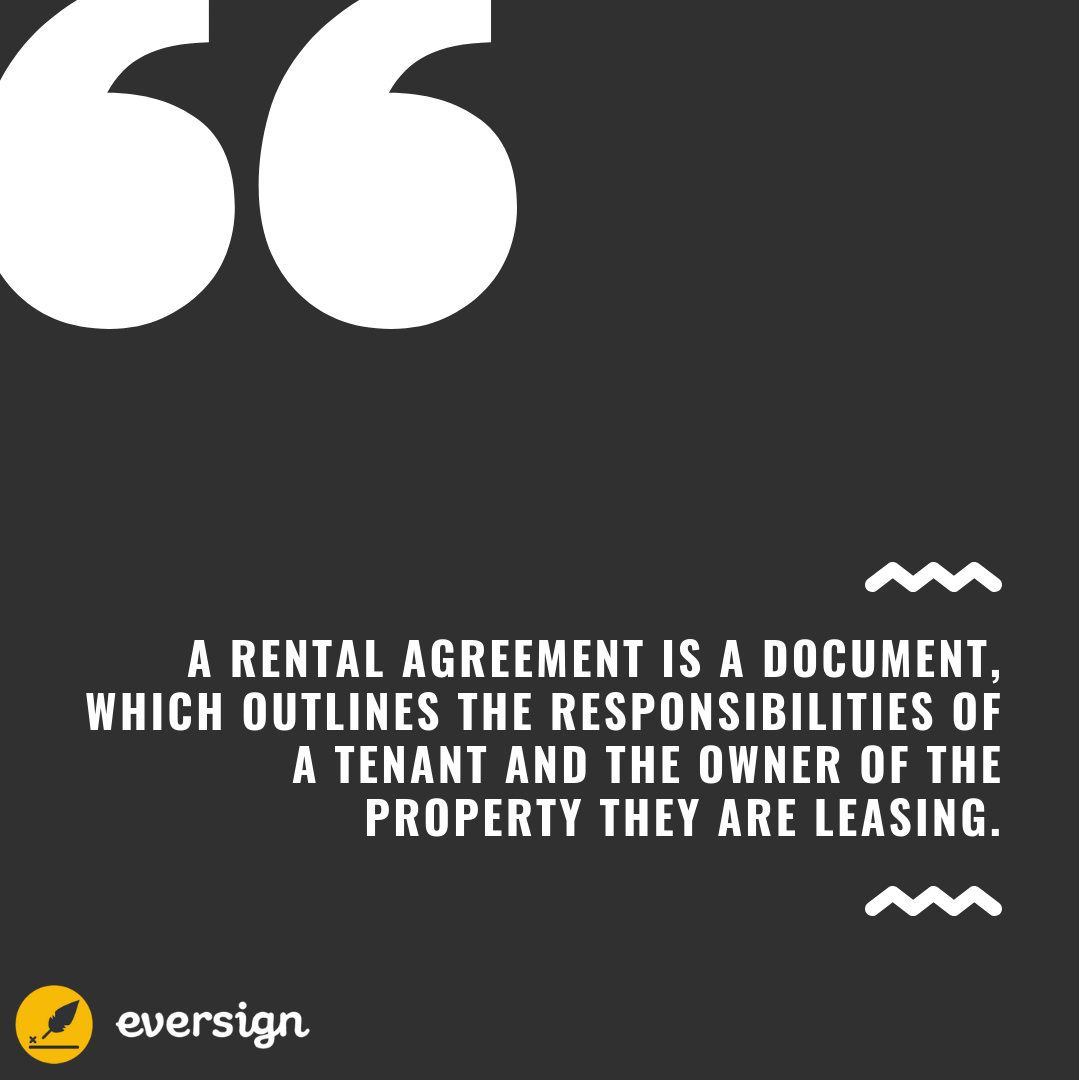 When Is a Rental Agreement Needed?
You may benefit from creating a new agreement or be required to sign an existing contract if you are:
A homeowner who plans to lease out a property
A property manager in charge of handling properties on behalf of a landlord or landlady
A homeowner who plans to lease out part of a residential property, for example, an annex or a single bedroom
A tenant who is looking to lease a property or a room from an owner who currently doesn't have an agreement drawn up
What Should Be Included in the Contract?
You can make a rental agreement as basic or as complex as you like, and the level of detail varies according to the individual contract.
Some are pages and pages long with all kinds of appendices attached, while others are much simpler. It's beneficial to cover the essentials, even in a basic agreement.
Examples of provisions that should be made for even the most straightforward rental agreement include:
The lease term (for example 6 or 12 months)
Terms of contract renewal (for example, a rolling contract or giving notice in advance to renew or terminate the contract upon completion)
The weekly, monthly or annual fee
The security deposit value
Names of all tenants plus contact details
Names of owners or property managers plus contact details
Scheduled payment dates (for example, rent payable on the 1st of the month)
Agreed payment method
Payment of utilities: is the contract inclusive of bills or is the tenant responsible for paying for utilities in addition to the rent?
Access to amenities and facilities, for example, a gym, parking or communal gardens
Policies related to pets
Stipulations for guests
Penalties for late or missed payments
Conditions and charges for leaving the contract early
Conditions imposed for damage to the property
The rental agreement should outline the responsibilities for both the tenant and the owner.
If there is a garden, for example, the agreement should provide clarification about who is responsible for maintenance.
What Kind of Information Do I Need to Create a Rental Agreement?
When you're creating a rental agreement, it's always helpful to have the information you need on-hand to simplify the process and prevent delays.
Examples of documents or information you may require to complete the agreement include:
General information about the individual property: this includes the full address of the flat or house, the name of the owner, their contact details and a brief description of the property, for example, how many rooms it has and how old it is.  
Information related to the maintenance of the property: some owners take charge of repairs, while others use external firms and contractors. This section should include information about who will supervise repair and maintenance work.
Information about the security deposit: how much is due and when the fee is payable.  
Tenant names and contact details. It may also be necessary to obtain information about the policy on guests and visitors. Some agreements have restrictions related to the duration of visits, for example.
Details of the payment schedule: when is rent due, and are there any fees for late payments?
Information about furnishings and appliances: what is provided by the owner? It's also useful to include provisions related to changing the appearance of the property. Is a tenant allowed to paint interior walls, for example?
Renewal information: details about what happens when the contract expires. Auto-renewal is a popular option, but this isn't a condition of every contract. Auto-renewal means that the agreement rolls over once the agreed term has come to an end.
Information about pets: are pets allowed? Which kinds of pets are permitted? Are there restrictions in terms of the number of animals? Are there additional charges, for example, cleaning fees or a larger deposit?
Parking provisions and guidelines: is parking included in the rent, or is there an extra fee?
What Are the Benefits of Having a Rental Agreement?
Having a rental agreement is beneficial for both parties. Without an agreement, there may be confusion related to the terms of the contract, and this could result in arguments and disagreements.
With a signed contract, you have peace of mind and clear insight into the responsibilities you're undertaking.
If you have a question, for example, the dishwasher has stopped working, and you're unsure who should pay for repairs or a replacement appliance, consulting your lease agreement should provide the answers.
Creating a Basic Rental Agreement: A Step by Step Guide and Sample Templates
If you're ready to create your agreement, simply follow these steps:
Give your agreement a title, for example, 'residential lease agreement' and the property name
Note down the names and contact details of all parties involved, including the tenants, the property owner and property manager, if applicable
Provide the full name and address of the property, and a brief description
Add the agreed duration of the agreement and the start and end date, for example, a 12-month period commencing on 01/08/2018
Provide details about the financial agreement: this should include the payment date and where rent fees should be sent, the amount due, information about the security deposit, and penalties and charges for late or missed payments (for example, a fee of $50 will be payable if a tenant pays late)
Give details about utilities: who is responsible for paying for utilities? (gas, water, electricity)
Include information about other obligations, for example, taking out the trash,     maintaining the garden, carrying out repairs, replacing appliances
Outline the responsibilities of the tenant: this section will include information about keeping pets, having visitors to stay, subletting and making changes to the agreed rental contract.
Add information about penalties and fees that may be incurred if the tenant violates the terms of the agreement: this should include details about the action a landlord or landlady could take if the tenant misses a payment or goes against the contract in any way, for example, causing damage beyond that of general wear and tear.
Create a space for signatures: names should be signed and printed with a date stamp. All individuals mentioned within the agreement should sign and print their name. If there are multiple named tenants, for example, each one should provide a signature.
If you aren't sure of what the document should look like, here are some basic rental agreement templates for inspiration::
Make Life Easier With Rental Agreement Templates
Many of us have hectic schedules, which means it's not always easy to find the time to download contracts, sign them, scan and email them or print and post papers.
If you're trying to sort out a rental agreement and time is of the essence, what could be easier and more convenient than using an e-document signing tool like Eversign?
With Eversign, you don't have to worry about wading through reams of paper or scanning and printing documents. You can simply download your basic rental agreement template, and add an electronic signature. This saves time and effort, and it also makes a positive contribution to the planet.
Ready to Make a Basic Rental Agreement?
To summarize, rental agreements are beneficial for both property owners and tenants because they:
Outline the individual responsibilities of each party
Provide clarification about payment dates and fees
Offer information about what happens if the terms of the agreement are violated
It's important to know your rights as a tenant and a landlord, and having a solid agreement in place can help simplify the leasing process, prevent confusion and ensure a harmonious relationship between all the parties involved.
If you're looking to create a new lease agreement, and you need help or advice, hopefully, this guide will set you off on the right track.
If you're presented with a contract as a tenant, take a moment to read through it, and If you have any questions or queries, ask before you sign on the dotted line.