Freelancing is the way of the future. Don't believe us?
By 2027, it's expected that 58% of the American workforce will have some experience as an independent contractor.
And in 2017, a whopping 57.3 million people freelanced–that's already 35% of the U.S. workforce.
If you're a business owner looking to attain top talent to complete projects, then hiring freelancers is key. Not only does it save you money, but it'll also give you a larger talent pool to sift through.
Why limit yourself to a small group of local workers when you can hire a freelancer with better skills across the nation?
If you're thinking about hiring one or more freelancers for your next project, then keep the following 11 tips in mind!
1. Hire Based On Portfolio and Samples
Resumes are great – but nothing speaks on a freelancer's expertise like a portfolio. Seeing their past work can help you gauge their level of skill.
This is especially so for visual-based projects, such as architecture, writing, art, design, fashion, home improvement, landscaping, and so on.
But even if the freelancer you're considering hiring does have a portfolio, don't base your decision solely on what you see in it. You saw their past work and now it's time to see how they'd fit with your project's needs.
Samples can be very helpful in determining what a freelancer can do for your company. So provide a paid sample project to get a feel of their skills and professionalism.
See how quickly they turn around the project and the quality they produce.
2. Don't Overlook the Value of Interviews
The whole concept of freelance is about being remote, free, and your own boss. Because of this, some businesses treat freelancers like they're not a part of the company.
But these individuals are doing a large portion of your projects, which means you need to know who they are. And the only way you're going to find this out is if you're conducting interviews.
There's a lot you can learn about a freelancer during the interviewing process, which could save you money (and a headache) down the road.
Also, interviews help establish a human connection between the contractor and the company. Consider using online chat platforms, such as Skype and Google Hangouts for the interview.
What you're looking for are personality traits and characteristics that'll vibe with your business or that may act as barriers in the future.
3. Create an Agreement for Your Project
As you're wading through your options of freelancers, it's critical to begin drafting up agreements for your entire project. This document should detail all the tasks, milestones, and deadlines for the project.
It should also outline the requirements and guidelines for the freelancer that's hired to complete it. Include information about payment, such as the schedule, rate, and method of distribution.
Since everything is remote and digital, it makes sense to use a virtual document and e-signature to make onboarding easier. You can use a platform like Eversign to upload and sign agreements online.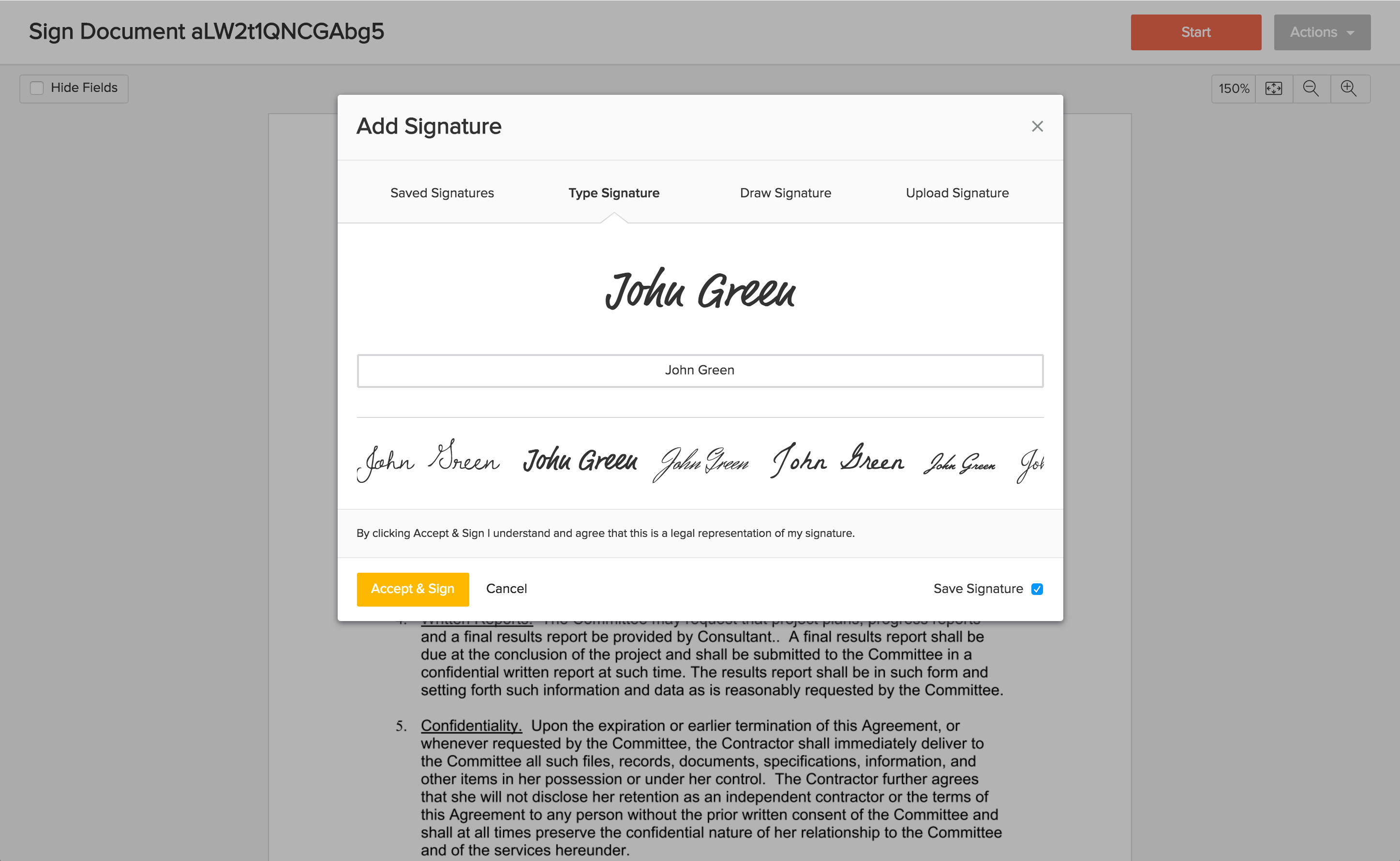 Having an agreement in place before you hire a freelancer will ensure everyone's on the same page.
4. Check the Freelancers References
Another way to determine the quality of a freelancer (outside of their portfolio and sample) is to ask for references. This is advisable if you're planning to hire a freelancer for long-term, on-going work.
Talking to references will give you an inside look at who the freelancer is on a professional level. Did they complete projects on time, make frequent errors, or handle communications poorly (or rudely)?
When you reach out to the references, have a list of questions ready. These questions should be in regards to the freelancer's professionalism, personality, workmanship, expertise, quality, and so on.
Also, if you're using a site like Freelancer or Upwork to find freelancers, you can always look at their ratings and feedback.
5. Make Open Communication a Requirement
Freelancers don't have to show up to work every day. This means you have to try and keep tabs on remote workers to ensure progress is being made.
One way to make this easier is to make it a requirement for freelancers to keep regular and open communication with you. This way, you can easily reach them when you need to.
For example, you can request that freelancers be available on Skype or via email Mon-Fri between 10 am and 6 pm. Use the line of communication for providing feedback, inquiring about progress, and giving updates on a project.
It'll also make it easier for your freelancers to reach out to you with questions and concerns they may have.
6. Discuss Ownership Rights Before Hiring
Some freelancers are looking to do more than buff up their portfolio and resume. They're also looking to gain recognition. This may be a problem if you're looking for a contractor who's alright with completing projects without getting credit.
It's good to have a contract set up detailing who will have the rights to the finished works performed by the freelancer.
For example, once you pay the freelancer, the rights to the work will pass along to your business. Be sure to have this document reviewed and signed by the freelancer before you hire them
Also, it's not uncommon in this scenario for freelancers to demand a certain percentage to be paid before the project commences. This is their way of protecting themselves since they're delivering work that won't have their name attached to it.
7. Don't Hire Freelancers Based On Price
The consumer in you wants the best deal possible – but don't let it come at the expense of your project's quality. When it comes to services, you want the best quality you can buy, not the cheapest.
This means being prepared to pay to a premium price.
If you're on a tight budget, rethink how you're allocating your business dollars. How important is the project to the bottom line of your company?
If it's a high priority, then do whatever you can to pour more money into the project to ensure you get great quality. Because as they say – cheap can be expensive.
Paying a freelancer for poor quality work and then turning around and paying a premium freelancer to redo it isn't something you can afford to do.
8. Find Out the Freelancer's Schedule
We're not just talking about the days and hours they're able to work. But the number of other clients and projects they're already engaged to.
This will give you a clear picture of how much work you can delegate to that freelancer in the future. If they're tied to other prior engagements, then find out if it's long-term or for a certain time frame.
Be upfront about your needs so they can determine if they have the ability to synchronize your deadlines with their schedule.
It's also recommended that you use an online program for managing and tracking projects. For example, Trello and Basecamp allow you to see which tasks are in progress or completed.
9. Give Several Freelancers a Trial Run
It can be hard narrowing down your search to one freelancer. You've already interviewed freelancers, checked their references, and poured over their portfolio and samples.
Now, you may still have a handful of freelancers still at the top of your list. In order to select the final winner, you can give each of them a trial run.
Ideally, you want to select two or three freelancers and provide them with a small job to complete. See who meets the deadline, quality, guidelines, and expectations of your company.
This can help you to see who's worth the risk and who isn't. If needed, have the trial run last several weeks to really get a feel of the freelancers and how they operate.
10. Go to Freelancer Hangout Spots
It's not enough to post job listings on Indeed and LinkedIn. If you're serious about finding top talent, then sometimes you have to do a bit of headhunting.
One way to do this is by looking for freelancers where they hang out. You can find a variety of industry-specific sites designed just for freelancers.
Go to these forums, social media pages, and online groups, to see who's there. Read through the discussions to see what concerns they have with employers and whether any of them are looking for work.
11. Don't Wait Until You Need a Freelancer
The best time to look for freelancers is when a project is still in the planning phase – months before it's ready to go. The more time you give yourself to properly search around, the better.
You don't want to make the mistake of searching for freelancers when you're desperate and in need. In this scenario, you're bound to make hiring mistakes.
For example, you may overlook conducting interviews, contacting references, or thoroughly examining portfolios. You may even forego asking applicants to perform trial work.
In the end, you could end up with freelancers that are mediocre. Don't waste your time and money on these individuals!
Hiring Freelancers that Rock
Alright, so you have your list of tips to use for hiring amazing freelancers. Now, it's time to put them to use.
There are hundreds of thousands of businesses already doing so.
Since 2000, 1099 form submissions have increased 22%, while W-2 forms stagnated. This shows the rise in freelancers across the nation.
Make sure you have tools in place to make it possible to sign W-9 forms online.
Already working with freelancers? Let us know in the comments how you're hiring and managing them!