Technology is taking over the world and it's not as scary as many have lead us to believe. Small businesses (and even large ones) across the globe are using cloud services to streamline their processes.
And this is exactly why there's a rise in the number of cloud service solutions popping up.
For example, by 2020, Subscription-based Software-as-a-Service (SaaS) will increase at an 18% Compound Annual Growth Rate.
Infrastructure-as-a-Service (IaaS) is predicted to reach $72.4 billion globally by 2020.
And Platform-as-a-Service (PaaS) will rise from 32% to 56% between 2016 and 2019. This makes it the quickest growing of all three.
But why is any of this important? When you look at small businesses in countries around the world, you'll see this trend.
More and more businesses are adopting all sorts of SaaS technologies. For example, when it comes to accounting, 58% of large companies are using cloud accounting services.
And there are 2.55 million Quickbook subscribers around the world. So it makes sense that 58% of small businesses don't feel they'll talk to accountants face-to-face in the future.
Already, 18% of UK accounting firms are dealing with clients virtually.
And for many, going paperless is a big deal, especially when it comes to invoicing. Roughly 66% of UK businesses are at risk of mismanaging their paper documents.
This is likely why 20% to 40% of invoices sent in Western Europe are electronic.
Having a way to digitally manage all of your paperwork can help save you time and money.
But which online document storage solutions should you use? Let's take a quick look at some of the top document storage solutions for 2019.
What to Look for in an Online Document Storage Solution
Before you go researching your various options, it's important to know what to look for. You don't want to end up with a platform that is severely limited, insecure, or overly priced.
Here's a quick review of what you should look for when shopping for an online document storage platform.
Cloud Business Accounts
There are two types of accounts some platforms offer – business and personal. As an individual, you don't need all of the extra features offered to business owners.
Nor do you want to pay the hefty price tag that comes attached to business accounts. So as a business, you need to opt for a business account to get all the bells and whistles needed to make document management seamless.
Customer Experience
The online document storage provider should offer you features that make it easy to do what you do – create and manage documents. This includes being able to access your documents from anywhere and on any device.
You should also be able to upload documents using desktop and mobile devices, including iOS and Android. Then, of course, you want the ability to share documents and media quickly.
This will make collaborating on projects simple.
And we can't leave out the need for automated, system-level backups. You never know when you may have a crash that devours all of your important documents.
With automated backups, you can ensure all of your computer files are backed up on a regular basis.
Security Protocols
You're uploading documents to the cloud that contain sensitive data.
Dealing with identity theft or leaks of confidential company plans and designs is no walk in the park. This can turn into an expensive legal battle that could potentially ruin your business.
This is why we highly recommend using platforms that boast the best security protocols to ensure this doesn't happen.
Next, let's review 10 online document storage solutions you should try out.
If you don't use a lot of data, then Dropbox is a great choice for your business. It's very easy to use, thanks to its intuitive design.
A lot of newbies to online file storage start here because of the simplicity of the platform. Plus, you can operate it on any major operating system and device.
And what's also noteworthy about this platform is that it doesn't require a scanner to upload documents. You can easily use the camera upload feature.
This has no limit for the file size on mobile devices. Just take a snapshot and it'll automatically upload to your Dropbox once you connect to a WiFi network.
There's a free version you can test out before you buy. But you won't be able to keep it if you use a lot of data since you'll quickly run out of storage space.
Initially, you get about 15GB of free space. You can upgrade 3 TB and unlimited storage options for just $12.50/mo and $20/mo.
Special quotes are available for those needing customizable solutions.
When you need a file sharing solution that's collaborative, then Google Drive is a great choice. It's a powerful tool that comes with all the Google services you know and love.
From here, you can easily create documents, spreadsheets, Google Forms, and presentations. Then you can easily share them with others via email or by copying and pasting the link and sending it via text or messenger.
Also, you can connect to various third-party apps, which syncs whenever you're connected to the internet.
But what's even better is that you can still access all of your content offline by enabling offline access. The backup function also makes it easy to ensure your files are backed up.
The free version comes with 15GB of storage space.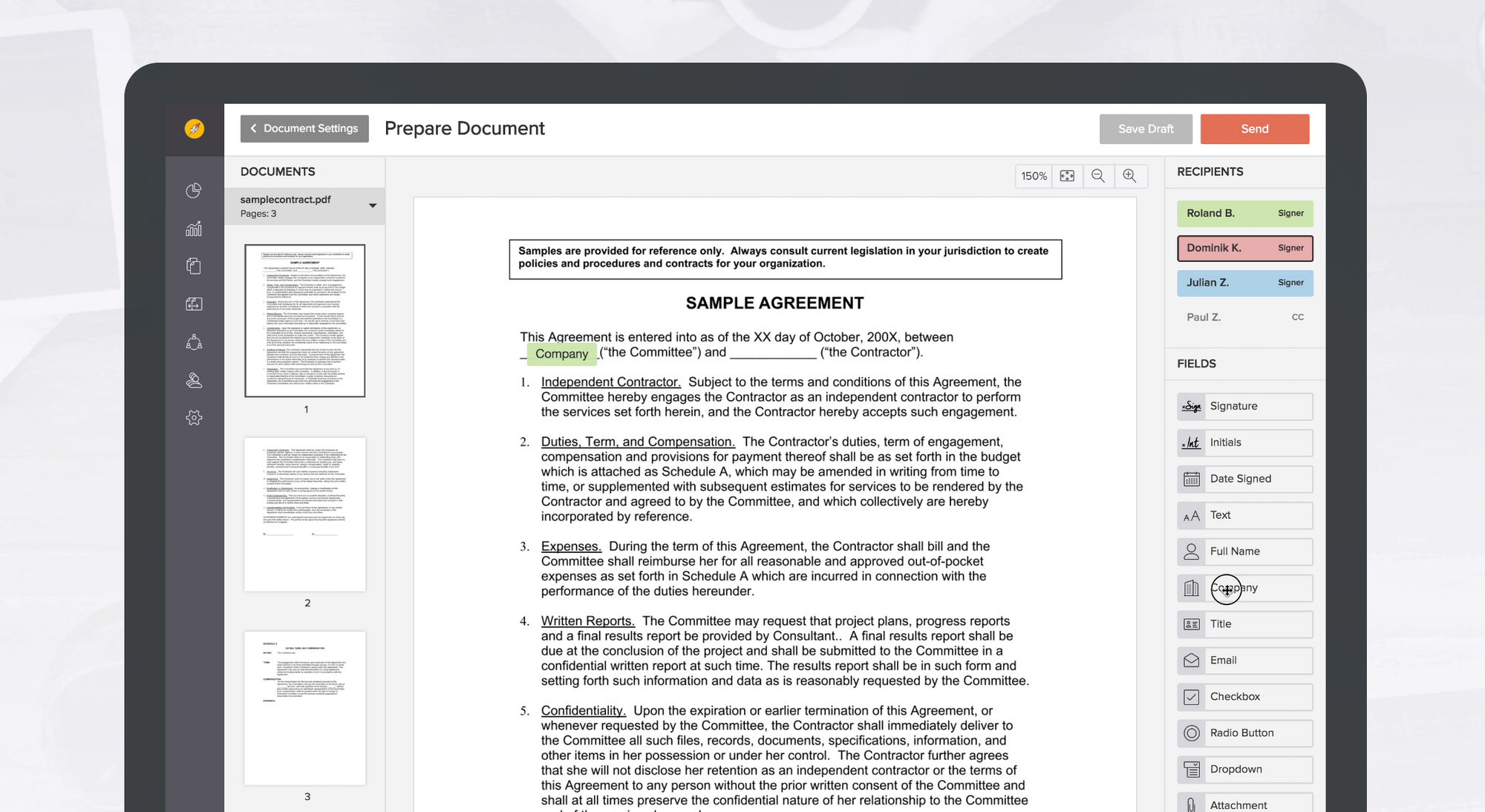 Sometimes, you need to sign documents while on the go—or even while you're on the other side of the world. No longer will distance prevent you from signing contracts and other documents in a timely manner.
With eversign, you can sign and then store documents electronically. You can send and receive documents for signing via email using the secure platform. Managing documents is easier since you can keep track of which documents are pending signatures and which are complete.
There's a free version you can use with limitations. But it's recommended that you upgrade to unlock all the rich features.
Mega is another secure platform you can use to store your online documents. It boasts end-to-end encryption and secure global access.
It even has live encrypted backup, which offers real-time file synchronization. If you're looking for a way to collaborate with your team remotely, then Mega is a great option.
You can easily share data and communicate with your team securely. Plus, you're able to see their real-time updates.
Mega allows you to test out the platform without an account. Then if you decide to keep it, you can download the app on your mobile device and desktop.
When you sign up for an account, you get 50GB of free storage space.
This platform comes with business-oriented features. However, it only allows you to use the software when you're using the browser client.
Plus, it has basic functionality on the mobile apps. But the upside is all of the integrations with third-party services and apps.
So if you're a user of Facebook, Asana, and IFTTT, then you'll find this to be a delight. Box is an excellent option for those working with smaller teams (if you only want to use the free version).
However, you can always upgrade to the Enterprise account and get additional storage space. The free account comes with 10GB of storage space.
If you're using Window's 10, then you already have this software. There's no app to download for you. You may have heard of OneDrive, which was formerly known as SkyDrive.
It comes with 5GB of free storage space and file restoration features.
And if you like to use mobile devices, you'll be happy to learn this platform has an app for both iOS and Android devices.
Plus, the app isn't just for Windows PCs. There's a Mac version available in the App store. The plans are also cheap, starting at $3/mo or £1.99 and AU$4.
Of course, you can try the free version to see if it's right for you. This account comes with 5GB of free storage space.
We can't leave out the iPhone users who need to back up their files. You can use iCloud to store your documents created in iWork office suite (automatically). Plus, you can sync it with all of your devices.
If you're a Windows user, there's good news. You can use this to sync your files to iCloud Drive using the official client. You can also use the iCloud website to access iWork apps.
There's a free version for this app, starting with 5GB of free storage space. The price for the upgrade is $0.99/mo, £0.79/mo, or AU$1.49/mo.
Choosing an Online Document Storage Platform
Paperwork makes the world go 'round in business. So why not make the process smoother with online document storage solutions?
With the right tools, you can make your documents easier to sign, email, and track. This means no more losing important papers and wasting man hours searching for documents.
Digital document storage is a great way to improve HR processes and onboarding. Plus, you can quickly have a prospect or partner sign an NDA agreement before discussing certain matters.
But whichever tools you decide to use, be sure they're secure, affordable, and feature-rich
Thinking about switching to digital documents? Then let us know in the comments how you're managing all of your paper documents!