Modern workplaces just like yours have fallen in love with all things agile.
Everywhere you look, agile's most ardent followers say it's the only way to deliver high-quality projects on time and in-budget.
That surge in popularity means hundreds of agile tools have sprung up, built on the promise of improving productivity, transparency, and collaboration.
But all that choice means it's hard to figure out the best agile tool for your team.
We've sorted through the best agile tools used to help businesses of all sizes better manage their work.
What is Agile Project Management?
Before we dig into the list of agile tools, let's take a brief look at the history of agile. That way, we can easily evaluate exactly which tools are right for agile project management.
Now if you've been looking into agile tools, you may have heard about the launch of the Agile manifesto in 2001. Though, a deeper dive shows the agile approach stretches back as far as 1957.
And although the tech industry is often credited with coming up with agile, the work style was first rolled out in major manufacturing companies in the U.S and Japan.
In 1986, Hirotaka Takeuchi and Ikujiro Nonaka, university professors and authors, wrote a Harvard Business Article about a "new emphasis on speed and ability". Under the old way of doing things, tasks were sequential and teams siloed, the relay race. Instead, agile teams modelled themselves on a rugby team, passing the ball back and forth, collaborating as a tight unit to get the job done.
That HBR article would go on to inspire the Agile Manifesto, a set of 12 principles guiding new ways to develop software.
These days the approach is used in everything right from project management to budgeting. Some productivity enthusiasts even turn to agile to plan personal endeavours like weddings, home renovations, and vacations.
At its core, an agile project focuses on responding to change, rather than following a set plan. Instead of rigid contract negotiations, agile teams embrace ongoing client collaboration.
The key fundamentals include:

Focus on people, not processes
Break work into short cycles
Promote transparency
Get real-time feedback and course correct
What this looks like in action is that projects are split into several phases, called sprints. There's a tight feedback loop, with daily discussions on progress and roadblocks. At the end of a sprint, teams review the progress to determine productivity and identify problems.
Everyone involved—team members, clients, and management—has a complete view of the project.
But, does it work?
Well, one study into more than 1,000 projects makes a strong case for agile. Researchers found improvements in efficiency, project stakeholder satisfaction, and overall perception of project performance.
Now imagine what your team could pull off with the right set of agile tools.
Features of Agile Tools
Great agile tools make project management easier than ever.
If you've already started evaluating agile tools, you've probably heard of agile methods,  like scrum and kanban. Most agile tools let you set up processes for each of these methods.
Here's a summary of both:

Scrum is a small team that works in sprints. They are lead by a Scrum master; it's their job to get rid of any bottlenecks. Teams meet regularly to give updates on tasks and potential problems.
Kanban, billboard in Japanese, is a way of visualising work. Tasks are dragged through different phases, e.g., backlog, in progress, and done. The idea is to limit tasks in progress, also known as a Work in Progress (WIP).
In addition, look for agile tools that emphasize these benefits:
Collaboration. Agile projects are built on collaboration. Tools should offer an easy way to provide feedback, e.g., attaching notes and adding comments
Task management. Applications should let you track tasks and share task lists. Look for features like task dependencies. If you're after visuals, prioritize tools that come with Kanban boards.
Reporting. Some tools offer rich analytics, like detailed data about backlog lists and sprint activity. At a glance, you get to see what's working and what's not. Burndown charts, for instance, lets you track the remaining work, calculating the likelihood of your team reaching the sprint goal.
Best Agile Tools
With those features in mind, here are the top agile tools for better productivity and collaboration.
Asana
Built by an ex-Google engineer and a former Facebook founder, Asana is one of the most popular project management tools.
Asana can be used to manage any kind of project, but it comes with agile specific features. Scrum teams can build product roadmaps, for example.
Here's Asana's key features:
Kanban boards
Timelines and detailed project milestones
Conversations in tasks
Graphic dashboard
Task management, e.g., assign tasks and task dependencies
Monday
Like Asana, Monday is a well-known project management tool. Agile capabilities are built into the application. For instance, you can select from sprint templates or design your own, customized sprint plan.
Along with an intuitive interface, Monday lets you:
Create and amend roadmaps
Track tasks in Kanban or list view
View graphic dashboard that brings together all project information
Access reports with detail on sprint progress
Trello
Consider Trello if you're looking for a simple way to visualize your work with Kanban boards.
Trello is a practical tool for general task management for projects of all sizes. Teams drag tasks from one board to another as work is completed.
One of the ways you can use Trello is to organize your backlog of tasks, moving tasks into "in progress" during a sprint.
In fact, Trello even has a detailed overview for getting started with scrum.
Kanbanize
Just like Trello, Kanbanize visualizes work.
If you don't need complex agile tools, Kanbanize might be the best fit. Kanbanize gives everyone on the team sight into workflows and task updates.
Even better, set timelines and task dependencies. Kanbanize comes with support for detailed forecasting, which might boost the accuracy of your estimations. Once you've set up your boards, use rules to automate actions. This gives you full control over what happens when cards are created or moved.
ProofHub
ProofHub is an all-in-one project management and team collaboration software with built-in agile capabilities. If you want a single software to manage your tasks, teams and communications, ProofHub does the job for you.
You can use Kanban boards for an agile approach to project management or keep it simple with to-do lists.
Here are ProofHub's key features:
• Kanban boards
• Task management (add tasks with deadlines)
• Real-time collaboration
• Built-in chat
• Custom reports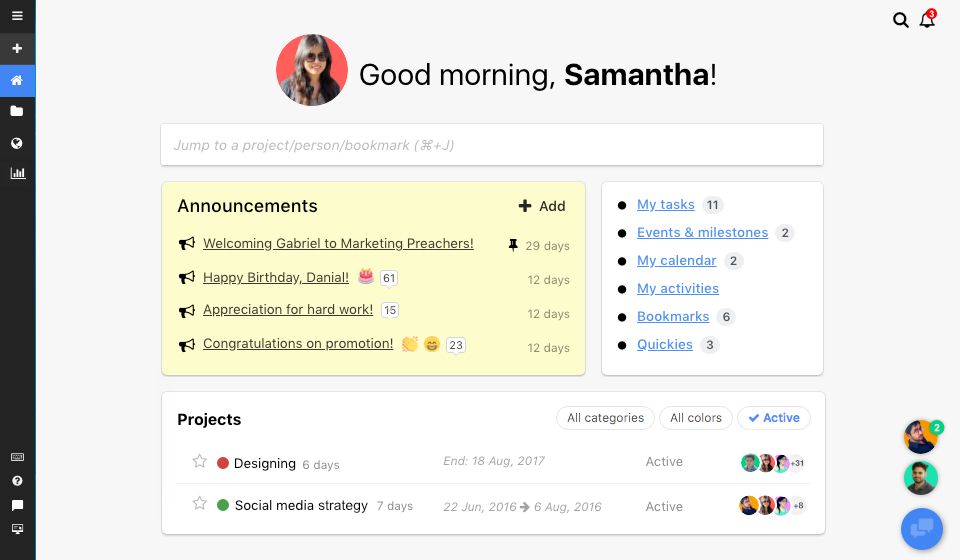 Zoho Sprints
Zoho Sprints bills itself as an agile tool designed to track and manage projects.
You'll get personalized scrum boards to move tasks during a sprint. When it comes time to evaluate progress, timesheets identify whether teams are working on the most important priorities.
In true agile style, everyone can monitor at entire project from the dashboard. You'll get to track a summary of the tasks completed during the sprint, plus detailed data and analytics like burndown reports and velocity charts. A real-time feed brings together project conversations around key meetings, like sprint planning and reviews.
Smartsheet
Looking for an agile tool to keep your entire team on the same page?
Smartsheet comes with support for multiple views of your work, e.g., card, calendar, or grid view.
For improved collaboration, you get access to live data via the dashboard.
Other project planning benefits include:
Create project timelines
Build roadmaps
Set task alerts and reminders
There's also support to automate routine actions, so your team doesn't get bogged down by repetitive admin work.
Jira
If you're in software development, Jira stands out as a strong contender.
With it's clean interface, Jira is designed for different agile methods like scrum or kanban. For sprint planning, Jira lets you re-prioritize your backlog with ease. Once you're done with a sprint, Jira automatically moves all unfinished issues into the backlog so it's added to the agenda for the next sprint meeting.
Wrike

Wrike is an agile tool that offers all the features you need to organize and plan projects. A dashboard plots general progress and team member's individual workload.
These include:
Develop timelines
View project schedules
Set task dependencies
Drag and drop tasks on Kanban boards
And if you want to declutter your interface, Wrike lets you customize your board, so you only see relevant tasks.
Do Better Work, Faster With Agile Tools
Running an agile project means moving fast.
The last thing you want is to be held back by delays due to outdated business processes.
So it's helpful to extend an agile approach to things like administration and document management.
Think about the traditional, manual way of managing documents, for instance. Signing a contract is a tedious affair involving printing, scanning, and emailing.
Here's where software like eversign can help.
A tool like eversign makes it easy to collaborate on documents: important files are securely stored in an easily accessible cloud database.
Because you can track progress, you always know the status of documents.
Any roadblocks?
You'll get an alert when key documents haven't been signed. The obvious benefit is less time spent on chasing documents. Plus, you're eliminating all of the administration that comes with processing paperwork.
Over the past few years, agile has emerged as a way to successfully streamline work.
And with a focus on collaboration, task prioritization, and real-time feedback, agile tools may help your business take full advantage of all these benefits.